My boss asked me to submit a list of "inexpensive" network admin tools that would be of value to assist us in managing and maintaining the wired and wireless network on campus. Here are a few tools that would be nice to have:
Throwing star (passive ethernet) LAN tap admin tool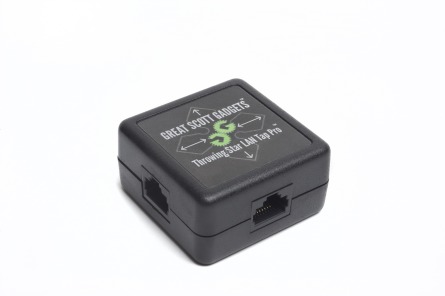 Image source from greatscottgadgets.com
The design allows for inline tapping at 10⁄100 speeds only. Capacitors within the circuit force the speed down to 100Mbps. Wireshark, here I come.
Cheap 2.4Ghz/5Ghz wireless CPE w/spectrum analyzer
Image source from www.ui.com/airmax/nanostationm
The ubiquiti nanostation AP/Client wireless device will provide you with a full blown spectrum analyzer. You would have to create your own POE battery pack to be mobile, but the price is right, its cheap. Remember, you pay for what you get. If you can afford something more expensive, try metageek's wifi chanalyzer pro software. These spectrum analyzers can help identify issues with wireless channel planning and possible wirless interference.
Raspberry Pi Remote Wifi Network Monitoring
Image source from adafruit.com
Buy yourself a raspberry pi from adafruit. It comes with everything you need to deploy a remote monitoring agent. Load up smokeping and put it in client mode. Connect it back to your smokeping server and monitor stats like DNS,web, mail, and a host of other services. You could also load tshark and use your throwing star tap for a remote packet capturing device. You can also use the included wifi adapter to and test your wifi network in remote buildings. iPerf can also be installed to perform wired and wireless speed tests. This would make for a great wifi admin tool.
x86 based tablet
Everyone loves tablets, but in order to run wireshark effectively and a host of other applications natively, you need an x86 device running windows. There are a few nice tablet options out there. The MS surface pro 2 comes in at $899 plus the cost of the keyboard. The base model includes an i5, 64gb ssd, and 4gb ram coming in at 2lbs. HP just released the HP Pro x2 410 G1 tablet which comes in at $999 and includes a keyboard. You get the i5, 4gb ram, but a larger 128gb SSD. The weight without the keyboard comes in at 1.81lbs. The only downside is that your limited to 4gb of ram. I wish apple would come out with a tablet MacBook already. I would prefer apple because you can easily capture raw 802.11 frames without doing much work along with UNIX under the hood. Apple also gives you the ability to boot camp windows as well. They are just a tad bit expensive. We will most likely end up going with HP, as its our vendor of choice. Oh and don't forget to buy an ethernet dongle as well.